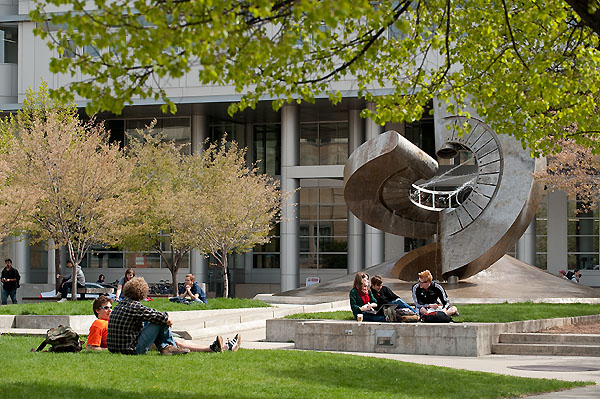 The Maquina Fountain in front of Engineering Hall, the IWCE venue.

Photograph by Jeff Miller/UW Madison.

>> UPDATES (June 4, 2012)<<
Detailed instructions on the preparation and submission of the IWCE proceedings paper can be found here.
PDFs of Phonon School Lectures have been added to the Phonon School Program, and can be found here.


Student Paper Award recipients have been listed here.



>> UPDATES (May 15, 2012)<<
Final IWCE program can be found here
Final Phonon School Program can be found here
Poster size should not exceed 3 feet (36 inches) wide by 4 feet (48 inches) tall.
That is approximately the size of A0 format in portrait orientation.
Conference venue is Engineering Hall (1415 Engineering Drive, Madison, WI 53706)
on the University of Wisconsin campus. Phonon School will be held in room 1610, IWCE in room 1800.

The reception (Tue 6-9) and banquet (Thu 6-9) will be held in Union South, which is across the street from Engineering Hall. See program for details.

The poster session will be held in Engineering Centers Building (Wed 6-9), which is a 2 min walk from Engineering Hall.
Parking: Attendees who are not staying at the Union South hotel can park in Parking Lot 17 (see map),
which is right next to Engineering Hall.

The cost of parking in Parking Lot 17 is $7.00 for half-day, and $12.00 for full-day parking.

Union South hotel guests can park in the hotel parking garage.



Registration

Monday: 8:00-1:00 Engineering Hall Lobby

Tuesday: 3:00-5:00 Engineering Hall Lobby

5:30-7:30 Union South, Varsity Lounge

Wednesday: 8:00-1:00 Engineering Hall Lobby